Do you want to dramatically enhance your operation? Speed up service delivery? Increase accuracy? Enhance customer satisfaction? Lower cost levels?


With the increasing demand from customers and pressure from competition, corporations in every sector are faced with the challenges of enhancing their performance at lightning speed. To achieve this, a corporation needs to have the long term direction set (vision and strategies), the fuel for movement filled (people and the culture), and the engine for movement well-tuned. This engine is the set of processes within the corporation.

Processes represent the ways a corporation works. They represent how people, units, and other resources are organized to achieve the required results. Process-centred service and productivity enhancement is an effective way to design or improve the engine that powers a corporation, to enhance inter-departmental cooperation, and most importantly, dramatically improve business performance.

Our consultants have been facilitating organizations to achieve remarkable and sustainable improvements. We have:

Dramatically sped up the order-to-delivery time of a high-tech multinational company by more than 60%;
Enormously improved the capability of a manufacturing process to nearly zero-defect level;
Greatly enhanced the service level of an installation service by a factor of 10; and
Significantly lowered the logistics cost of a manufacturing operation by more than 50%.
By employing our fast-track process-centred improvement methodology íV the CRACK process íV our clients have achieved low investment, high impact improvements in a rapid and structured way.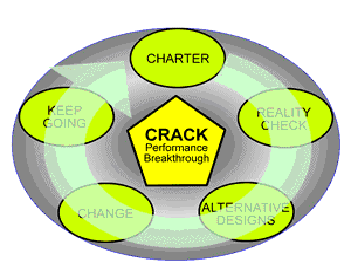 The CRACK process leverages on the knowledge and talents of your designated project team. Facilitated by our consultants and guided by this practical and systematic process, your team can create dramatic improvement with the lowest possible resource requirements in a brief time frame.
Moreover, with our experience in a wide spectrum of industries íV from retail operations, restaurants, manufacturing, to government and human services íV our consultants can bring a wealth of knowledge and insights across industries to help you breakthrough your current performance barriers.
By engaging us and employing the CRACK process, your organization can also enjoy such dramatic improvements in a matter of weeks.